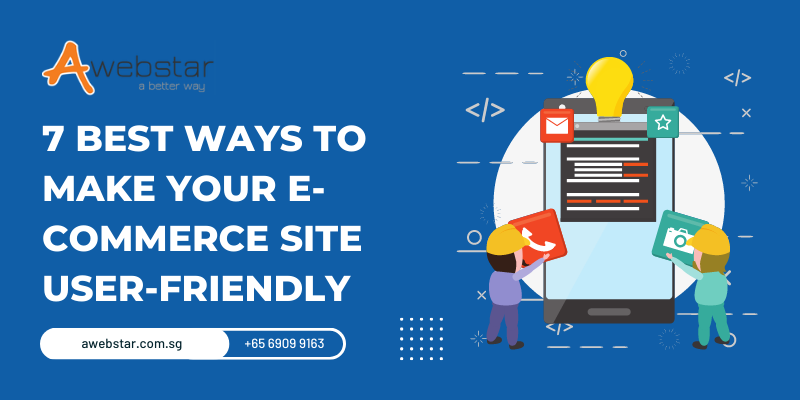 7 Best Ways To Make Your E-commerce Site User-Friendly
E-commerce sites are the most popular and essential part of your business. It helps you increase sales, reduce customer abandonment and improve customer satisfaction. Customers can easily find what they want on your website without having to search for it in the store or online. Additionally, having an effective and user-friendly site helps you generate more sales by providing an easy way for customers to shop from your website instead of going into a physical store. Expert eCommerce Website Developers help sell the most in-demand products by designing an appealing website. Also, you can see which products are selling well or poorly so that they can further adjust them accordingly if necessary.
However, you need to make sure that your website is user-friendly and easy to use too. If you don't have a user-friendly site, then potential customers will not be able to easily find what they want when they come across it on Google or another search engine website like Bing or Yahoo!
In this write-up, we will explore effective tips to make your eCommerce site more engaging and user-friendly.
Effective Practices to Make Your eCommerce Site User-Friendly:
A user-friendly eCommerce site is important because it attracts more customers and makes them happier. It also helps you increase your sales and make your business grow.
But what exactly does user-friendly mean? How do you make an E-commerce site user-friendly? There are several ways to do it:
Add Relevant and Necessary Information:
Include information about each product in the product description section, along with its picture, price, and other related information. Make sure that every product has its dedicated page where you can add additional information like shipping costs, returns policy, refund policies, and so on.
Ensure Easy Navigation:
Make sure that you have a clear navigation menu with all the products and services on it. You need a clear path between where visitors land on the front page and where they get information about services or products they're interested in buying. Use navigation menus, icons, and links throughout the site so visitors can easily find what they want.
Make Your Site Responsive and Mobile-Friendly:
Responsive web design is a part of user-friendly eCommerce sites. It makes sure that your website looks good on all devices, whether it is a smartphone or laptop, or tablet. This way, you do not have to create separate websites for each of them.
Also, make sure every page looks good on mobile devices. Mobile traffic has skyrocketed over the past few years. Mobile devices have already started seeing two-thirds of all internet traffic! If your site isn't optimized for mobile devices, it's going to be hard for potential customers to find their way around — and there's no reason why.
Integrate Multiple Payment Gateways:
How would you feel seeing that your PayPal or Credit Card won't be acceptable at the last stage of the purchase process? Obviously frustrated!! You would not want your customers to feel the same. Right!! Integrate as many as possible payment gateways and those preferred by the customers these days. It will enable the consumers to make payments and you to accept the transactions without any customer payment info encryption. integrate the eCommerce payment plugins your website platform supports and offer your customers popular gateway choices.
Add Social Media Links to Enable Customers Share Your Goods:
Many times, customers are obsessed with specific products and want to share them with their dear ones or followers on social media. You can take advantage by placing social media links throughout the product pages. It would promote your goods to an increased audience plus motivate them to make the purchase now or later. Isn't it worthwhile!!
Efficient Branding:
All the customers expect every site to vary in terms of design and functionality differs from other websites. They want the website's logo, and color theme to be easily recognizable and convey your eCommerce business message. For example, if your site's color theme or backgrounds are similar to those of your competitors, they may not recognize you. Also, it may influence your customer experience. Hence, ensure your brand has a differentiating identity.
The best you can do is employ an eCommerce website design company for help. The expert designers possess all the skills and experience to build an eCommerce site that conveys an exact brand message. Also, they can make the site look more appealing and unique than competitors.
Use Google Analytics:
You should use Google Analytics on your website so that you can track the traffic coming from different sources. Also, you can analyze it properly to improve your product sales and marketing strategies effectively.
Conclusion:
eCommerce websites are the most important part of your online business. They are your first point of contact with millions of customers every day, and they're the storefront where you sell your products and services.
However, to succeed in e-commerce, you need to have a user-friendly website. User-friendliness is one of the most important factors for success on the Internet — if people can't find what they're looking for, they'll go elsewhere.
So, along with following all these tips, you need to hire services of eCommerce web design in Singapore from Awebstar. The experienced designers here have all the answers to your queries. They are updated with recent user-friendly features and can integrate easily to make your site ready to deliver an improved customer experience.