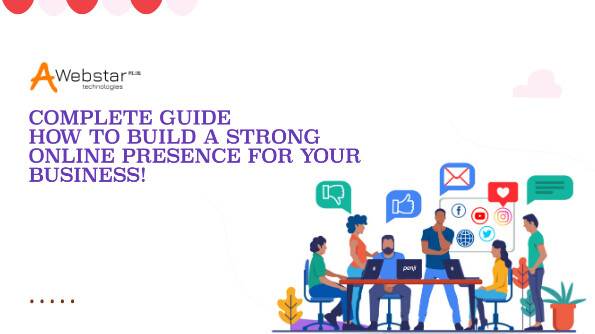 Complete Guide: How to Build a Strong Online Presence for Your Business!
Are you wondering how to build an online business?
Building a successful online presence on the World Wide Web is firmly increasing. Due to this fact, most large companies and corporations are spending millions of dollars on different techniques for gaining popularity.
The reason for this is – the world has become a digital globe. Smartphones and tablets are about to take over desktops, and people are digitally connected wherever they are. 
The online presence of a business becomes an essential subject. Building a successful online business requires suitable business ideas and time. In addition, a team of experienced and faithful professionals is also a great framework for a successful business. But, if your target audience is not conscious of your brand's existence, all the money and time you used will go in vain. That is why it is essential to have a well-thought marketing strategy whether it is about digital marketing or any other. It will not keep you away from gaining success and recognition in the market. 
How Does Online Presence Affect the Results?
It is vital for every size of online business to remain visible to your prospects, keep them engaging, share valuable information and news about new products and services, collect feedback, and adopt an amazing marketing approach. But, this can be possible by creating an attractive design and building a strong website structure. Even before the web design & web development process, you need to tackle some strategic website planning operations to decide the course of your online presence. This will not only help in making a strong relationship with customers but also allow them to stay connected with your brand.
So, this is why you need a solid online presence. An online presence shows a unique identity and visibility of your brand on the web. It provides great exposure when you promote it through various channels, including your website, social media, email, contributor platforms, forums, Q/A resources, and other channels. 
So, here are some key planning considerations that you should take care of before embarking on the online presence process.
Why is Online Presence Essential?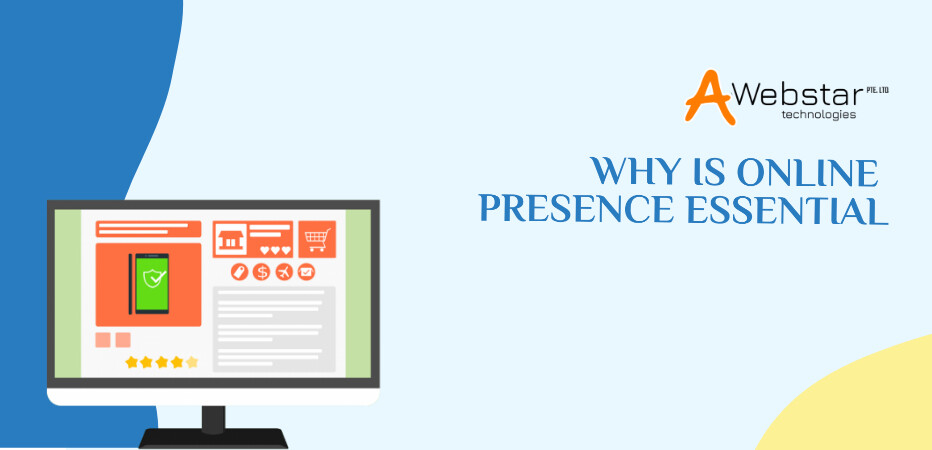 As discussed above, a strong online presence is only possible with the availability of a website and promotion through various platforms. Usually, people appreciate the businesses that have a well-featured and well-structured website. After all, it allows you to do business, find out information, buy products, and many more. The opportunities provided by such resources are incredible. 
Nowadays, customers use search engines like Google for finding information and making a purchasing decision. They also give preference to first positioned sites or those are ranked well on SERPs. Therefore, placing themselves among the first positioned sites will establish a brand image, spread awareness about the products/services, and help in generating more leads. 
A successfully optimized site will turn on the digital interactions, eager them to learn more about your brand, and also keep them engaging with your brand. In addition, the online presence also has a huge potential to attract and retain interested potential customers when they enter through various online channels. 
Tips for Building Online Presence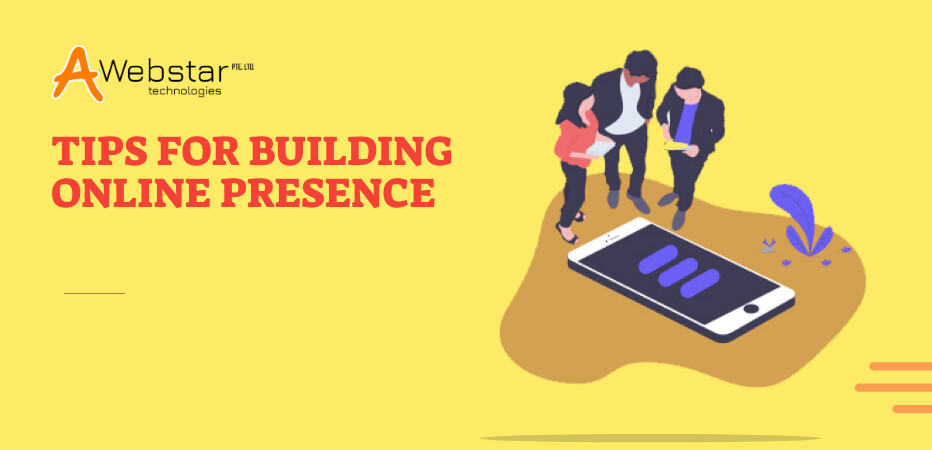 Building an online presence cannot be possible without implementing a systematic approach. Adopting every possible technique will help in making the most out of your invested time. So, here we have assembled the best effective ways that place you on the path to increase traffic, higher conversion rates, and meaningful engagement. So, let's have a look at the following.
It does not matter how good your online business idea is if it does not meet the needs of the market. Doing thorough research will give an idea of in which direction your business should go and is your idea related to the market. You have to take advantage of forum sites like Quora and see what questions people are asking about your business.
Redesigning your business to address those issues will give a huge benefit. The other area to determine the market trend is to find out how your competitors provide their customers and what they do to satisfy them. Working on all such nuances will improve the customer experience in your own business. This kind of research will give you an idea of ​​what your potential customers are looking for and how your business can meet that need.
Branding will help you in standing out among leaders, overcome the chaos, and grab the attention of your ideal customer. This is why it is important to seriously think over the brand system. Before beginning the branding process, you must ask yourself:
Who are you as a brand?

Does your brand have mission and values?
How to make yourself different from your competitors?
Are you focusing on the best strategies for building a long presence?
Once you obtain a clear idea over these queries, it will become easy to develop a visual identity. There are several key brand design elements you will need to start a successful online business, including logo, signature color palette, website, business cards, and other branding elements like packaging, promotional brochures, branded items, etc. All these elements make up your corporate identity. They will tell your customers who you are and send messages about your brand to the world.

For building an online presence, a website is the most important element of your brand identity. This is where customers learn about you, examine your products and services, and ultimately decide whether or not to do business with you. By placing your logo in a prominent place, you can use your brand's color palette in your web design and showcase your brand typography. Do whatever it takes to promote your site thoroughly and consistently.
People will be viewing your website on both mobile and computer, so it is important that your design looks as good on mobile phones as it does on a desktop. An online business website must be fully responsive. The purpose of a website is to drive sales for an online business, so it is important to create a user-friendly interface and make it as easy as possible to purchase your products or services. 
Develop your Own Marketing Strategy
Now, you have a product/services, logistics, legal support, and branding. So, this is the right time to take your brand to the world and start marketing your online business. Advertising is essential to engage ideal customers, gain attention, and get interesting information about your online business. For this, you can use Google Adwords to promote your products through related Google searches.
In addition, you can also use Facebook ads to target your competitors' followers and show them why you are better. Marketing means sharing information about your business. And, the more customers you can attract, the more successful it will be.
Effective Use of Social Media
Social media can be used to drive visitors to your site, build and maintain a community, and stay in the minds of your fans and followers. Many social media platforms like Facebook, YouTube, Instagram, LinkedIn, and others are becoming important marketing channels for building an online presence.
Creating a Facebook page for your business and posting content daily about product launches, sales, helpful information, and more will make them engaging about your brand. Shooting simple YouTube videos will showcase you and your products. Make sure what you say in the YouTube video matches what you posted on Twitter. You should also have links to these channels to your sites. 
Create a Strong Relationship
People enjoy doing business with those they know, trust, and sympathize with. This is why you always get a higher conversion rate from your own mailing list as opposed to placing ads in front of cold buyers. That is why you need to build relationships with your audience. One way to start building good relationships is by offering free content or products that will help subscribers solve a problem. In addition, you also need to look for communities where leaders share their views regarding the industry.
By connecting with them and being an active member, you can start building a relationship. Google groups, LinkedIn Groups, and Quora is another great question-answer platform where users help each other on various topics. By participating in such discussions or making interactions with different leaders, you are successfully able to promote your products and services directly. 
Keep an Eye Over Analytics
Tracking the performance regularly of your business through accounting software will provide a further step in improving online presence. For building an online presence, it is essential to keep an eye on your efforts. Determine that your efforts are moving in the right direction. You should track the progress and keep improving them until you reach your goal.
Google Analytics is a great free tool that will track website performance. In addition, it also gives detailed statistics about the users visiting your website. Furthermore, you can also track social media performance by recording the growth of followers of various social media pages.
People do business with brands they trust. There is a great way to show your customers that your business is worth their trust. And, this can be possible by creating educational content like blog posts, ebooks, or FAQs. This will not only educate customers about your brand but also demonstrate to them that you value them. By creating useful, meaningful, unique, relevant, and high-quality content, you build trust with your audience.
Apply Various SEO Techniques
Maybe you have the best website along with effective marketing techniques. But, without the use of effective search engine optimization, all your strategies for an online presence will go in vain. So, it is recommended to take part in SEO. It includes content marketing, keyword research, meta description, backlinking, and many others.
By regularly posting useful content with specific keywords to your business, you can rise in search engine rankings. It means when people search for phrases related to your business, your site will appear on the SERPs. Therefore, it is important to keep SEO in mind when it comes to maintaining an online presence.
Most people check their email daily and sometimes hourly! So, infiltrating your customer's inbox is a great way to raise awareness about your business. This will also help in building strong business relationships, By adding a pop-up to your website and collecting visitor email addresses, you can contact your audience.
You can use a suitable mix of promotional and informational marketing emails for attracting more people, which ultimately boosts sales. You can also email your top-selling products with an offer or discount. The more contacts you add to your email list, the more opportunities you gain to market your products.
Research Influencer Marketing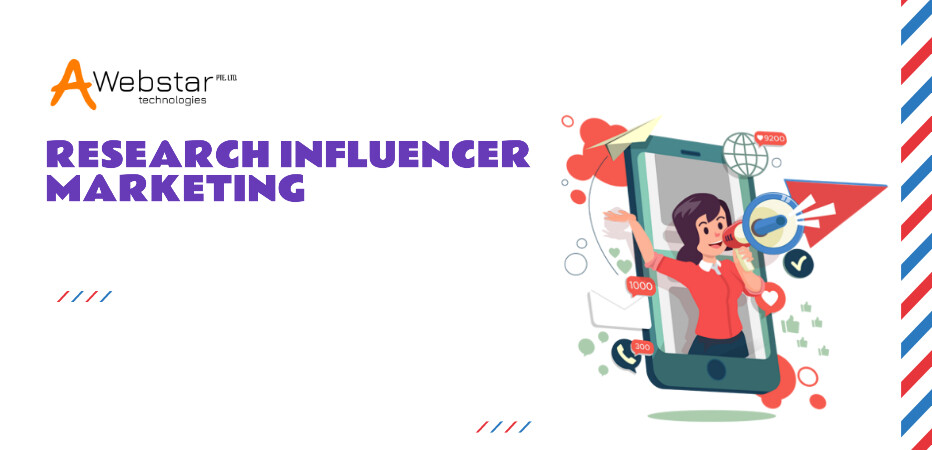 For staying active in your community, it is important to engage the audience through influencers. For example, if you are selling clothing products, then you must look for branded clothing influencers on YouTube and Instagram. While looking for an influencer, you must have to look for their honest reviews and promotion strategies. Additionally, influencer marketing will spread words about your brand. 
Wrapping Up!
Working on the online presence of business requires attention and precision. If well organized, it gives the company an advantage in terms of both consumer demand and search engine rankings. A business featured with a mobile app and responsive website design opens doors of searching for information from anywhere. The above-mentioned ways will help in getting thousands of people to your site. But if the site looks crappy, they will leave immediately and all your efforts will go in vain. Therefore, invest time and money to improve your online presence.