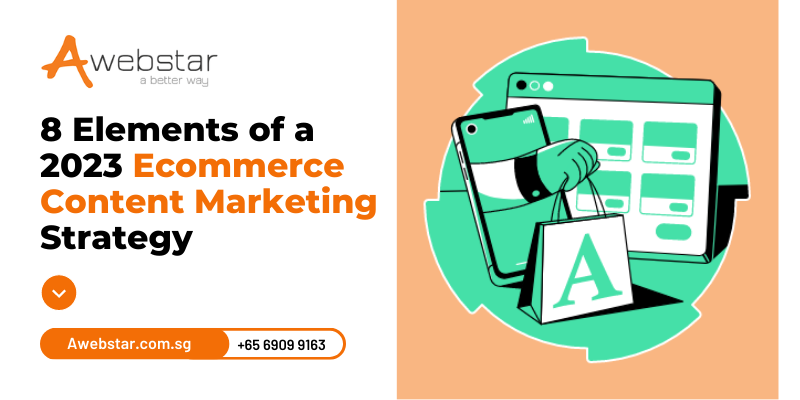 8 Elements of a 2023 Ecommerce Content Marketing Strategy
As we move closer to 2023, it is becoming increasingly important for ecommerce businesses to have a content marketing strategy in place to help them stay competitive in an ever-evolving digital marketing marketplace. Content marketing can be used to communicate brand values, create trust with customers, and increase sales. Crafting an effective content marketing strategy requires careful planning and execution, but the results can be worth the effort. In this article, we will discuss the eight essential elements that you need to consider when creating an Ecommerce Content Marketing Strategy for 2023.
Why eCommerce content marketing provides a competitive edge?
There are many ways in which e-commerce content marketing can help you get a competitive edge. To begin, content marketing can improve your brand's reputation and raise your company's profile. Convincing potential clients that you are an industry expert is a lot easier when you have a track record of producing useful content that caters to your consumers' wants and needs.
In addition to helping with SEO, content marketing can assist get more eyes on your site. When more people learn about your company, search engines will rank your website higher than those of your competitors.
Customers that find your material to be both entertaining and instructive are more likely to become paying customers, making content marketing a useful tool for lead generation. It's also a great way to interact with clients and grow your business. Customers can be connected to a brand and inspired to show loyalty if they are often exposed to engaging and informative content.
Content marketing strategy for Ecommerce may boost brand image, website traffic, leads, and consumer engagement, giving you a strategic advantage.
Understanding Your Audience:
In 2023, knowing your intended audience is essential for crafting an effective content marketing plan for your e-commerce platform. Knowing your target audience and what they're looking for will help you craft content that will resonate with them and inspire them to take action. Simply producing content isn't enough; it must also cater to the needs of your intended audience.
Think about who you want to buy from you and what they need. Is it your hope that you may offer them some useful guidance? Is feedback on the product being sought? Are they trying to find discount prices? If you can answer these questions, you'll be in a far better position to generate content that engages and motivates your target audience.
Though it may seem overwhelming at first, the key to the best ecommerce content marketing plan in 2023 is taking the time to learn about your intended audience and their specific wants and needs. In order to develop content that truly connects with your audience and motivates them to take action, you must first invest time in learning about them.
Optimises your Conversion Funnel:
To ensure the continued success of your e-commerce venture, content promotion should be a top priority. Using content to attract new customers and maintain their interest in your company is a smart marketing strategy. It also has the potential to raise conversion rates and boost average order value. Using content marketing, you may optimise your conversion funnel by producing material that both attracts and retains readers/viewers.
Better conversion rates can be achieved by adjusting several aspects of the customer acquisition process. A good way to accomplish this is to produce material that acts as a guide for the user. Content such as this may include instructions for using the product or service, as well as other useful information. The material you create can also be used to highlight the advantages of your products and convince potential customers to buy from you. You may streamline the conversion from website visitor to customer by offering this information to potential customers.
Content Marketing Makes Your Brand Distinctive:
To set your company apart from the competition, content marketing is a must. Using it right may make your business stand out, bring in new clients, and strengthen bonds with your current clientele.
Making content that educates, entertains, and captivates audiences is a certain way to boost brand recognition and loyalty. With the right strategy, content marketing may help you improve revenue, prospects, and brand recognition. Content strategy for e-commerce can be used to inform customers, establish credibility, and share valuable tools.
You can utilise it to get more people to visit your website and follow you on social media. To succeed, you need to be able to connect with as many people as possible and maintain a strong relationship with your consumers. Using this Ecommerce content strategy, you may give your clients something they won't find anywhere else, which will make them want to keep coming back for more.
Determining Your Content Goals:
Any 2023 ecommerce content marketing strategy will benefit greatly from the establishment of specific, quantifiable objectives. It's tough to come up with an efficient and fruitful content strategy if you don't know exactly what you're shooting for. Accomplishment in your content marketing plan relies on clearly defining that success for your company.
Making sure your content and campaigns are successful requires establishing clear, quantifiable objectives. Targets may be short-term, like boosting website traffic, or long-term, like expanding your brand's name recognition and sales. By establishing milestones and benchmarks, you can monitor your progress and alter your approach as needed. Setting reasonable goals keeps you motivated and on track.
Setting a Content Production Schedule:
An integral part of any content marketing plan for an online store is the establishment of a content creation timetable. Having a content creation calendar in place is helpful for maintaining a steady flow of content and hitting your content marketing targets. To succeed in content marketing, it is crucial to establish a schedule for content production and distribution. In addition, a content production schedule helps you monitor your development, spot weak spots, and alter your approach as required.
It is essential to establish reasonable objectives and timetables when planning content production. Think about the topics you want to cover and how often you want to post new information. Likewise, you should think about how much time it will take to create each individual piece of content. Think about when the content should go live and what channels it will be shared on.
Choosing Appropriate Content Platforms:
When creating a content marketing plan for an online store, consider which channels will reach your target audience. It's important to choose the right platform for your business because each has perks and cons. Understanding the platforms and how they may be used most efficiently to reach the target audience is essential.
For instance, businesses can use social media sites like Facebook, Instagram, and Twitter to promote their products and services and raise brand awareness, while content sites like YouTube and podcasts can be used to produce interesting and useful content that will draw in customers and increase sales. You should consider Search engine optimization (SEO) to boost a company's visibility in SERPs and make its content more easily available to its intended audience.
All of these options come with their own set of pros and negatives, so it's important to give serious thought to which ones would serve your company best. In 2023, an e-commerce business can simply reach its target audience and obtain an advantage over competitors with the appropriate plan.
Promoting Your Content:
To reach your target audience, it is not enough to simply create content; you'll also need to employ a content promotion plan. The use of paid advertising alongside free tactics like social media promotion, email campaigns, and search engine optimization should make up the bulk of your plan. Free organic procedures take more time and effort than professional alternatives.
There is a trade-off between the cost and efficacy of free approaches and the potential value of paid ones. To choose the best technique for your content, compare organic and paid methods. Using both free and paid strategies together can help your content reach more people while still keeping costs down.
Analysing Your Content Performance:
It is crucial to evaluate the efficacy of your e-commerce content marketing strategy. Keeping tabs on your content's reach (in terms of pageviews, shares, and comments) and its impact (in terms of leads and sales) is crucial. This measure helps you identify successful and underperforming content.
You need to know how your material is doing so you can improve it. Monitoring your content's success can also reveal areas for improvement. With this knowledge in hand, you can make the required adjustments to your Strategy and increase its chances of success.
Conclusion:
Planning and execution are key to a successful ecommerce content marketing strategy in 2023. Successful strategies require research into the demographics of your audience, the establishment of clear objectives, the creation of a workable production schedule, the selection of appropriate content distribution channels, the development of high-quality content, and the implementation of strategic distribution methods. To get the most out of your material, analyse its success and make regular changes. Following these eight steps, you'll have a solid foundation upon which to build an ecommerce content marketing plan that can propel your company to the top of the digital sales charts.