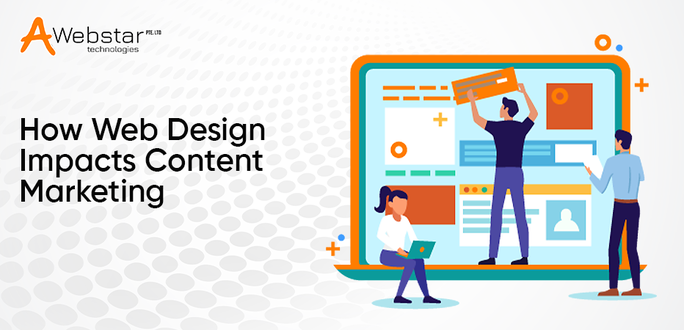 How Web Design Impacts Content Marketing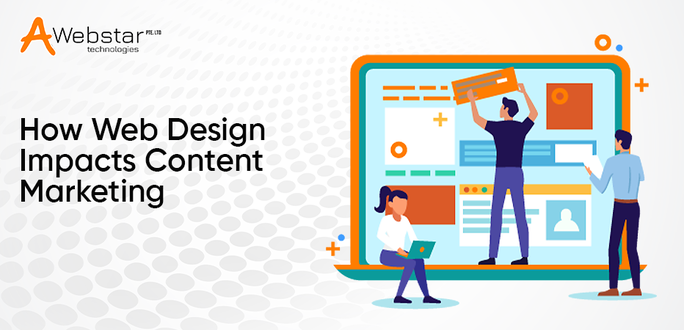 The choice of website design impacts the number of engaged visitors.  Many factors are there, which form a very first impression- it could be style, color, font, etc. 
We can say that the bad design can take away the profitable opportunities from your hand. Your web design can affect different digital marketing components, and content marketing is one of them.
Currently, it is one of the result-oriented marketing strategies. Almost 86% of the B2C marketers and 91% of B2B marketers are leveraging it. Though, to get the desired outcome from it, you should apply influential online marketing strategies. Believe us- website design has a major role to play in it.
Website design grabs the attention of visitors. So it is essential to make the content visually pleasing, easily accessible, readable, and engaging. This not only affects how visitors perceive the brand but also directly affects conversions and the length of stay of visitors who come here to read the content.
What is Content Marketing?
Content marketing has two parts. By focusing only on content creation, you can slip into pure copywriting. And this is an ineffective and short-term story. Therefore, we must not forget about marketing – long-term planning, strategy, building communication, and mutual understanding with the client. Concentrating on only one thing, you can lose the balance between the components, which does not guarantee the successful implementation of your company's strategy.
Based on this, content marketing is a long-term marketing strategy. It not only just aims to attract the target audience but also to build a trust relationship between the business and the client. This is achieved through the creation and competent distribution of relevant content.
The main task of content marketing is to induce the clients to take a number of actions (purchase, ordering a service). You need to involve them in your pre-thought conversion scenario.
Communicate your benefits to the client through content. Are your services the best in the market? Can you compete with other companies in your market? Are your prices just a fairy tale? There is a high probability that your client simply does not know about this. And you need to present all this information to your client. How? Through content, of course.
What do all users do on the Internet? They are looking for information. And correctly presented information is the essence of content marketing.
Content is about the value you can give your consumers. The presence or absence of useful information from you determines the degree of trust and loyalty to the resource, product, or service.
Each time you prepare new material, ask yourself the question: "How does my business solve the problem I am writing about?"
Importance of Website Design in Content Marketing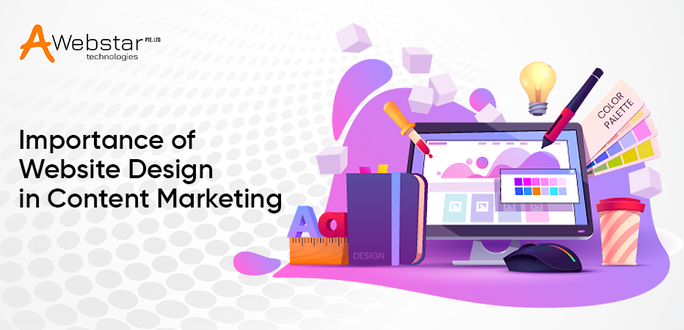 Website design is extremely important as the first impression to your client base, from color choices to layout, but how it affects your content. It can change many aspects of your online business presence. So you should choose carefully when designing your website yourself or hiring a web design agency for a web design service.
Content marketing involves the creation of valuable material that does not explicitly promote a brand but encourages interest by providing relevant information related to it. For example, you can publish How-To guides, cost-saving guides, or provide informational videos on a specific topic. Whichever you choose, make sure each of these things is related to the type of product or service you are selling.
So, how your web design affects this, four key areas enable customers to use your site to get what they want. Once you've attracted customers to your marketing, you need them to make a purchase. And what is the best way to do this to ensure that they can navigate the site easily and quickly, making it an enjoyable experience?
Ease of access
If you publish a lot of content on your site, such as the How-Tos we mentioned earlier, you need to make sure they are easy to find and read. Navigation should be exceptional so that your customers can find the information they want without having difficulty while searching. In the end, if it's too hard to work, your customers might just leave your site and head somewhere else. An easy way to combat this is to provide dropdown menus where possible and make sure you can return to previous pages with ease.
Impression
Professional and attractive are top words to keep in mind when looking at the look and feel of your website. Your site will impress the user from the first click, so they must find it visually appealing. Nobody likes scrolling through the pages of poorly designed sites bumping into colors and without the slightest idea! The way your website looks can give the user an idea of whether you are a valuable resource or whether they should be heading elsewhere.
Readability
There are many different fonts and colors available in design software. However, that doesn't mean you need to use them. It is best to stick with one font for headings and one font for paragraphs, which are formatted professionally across all pages. Multiple fonts can look messy and disordered, and you need to make sure your visitors can get the information they need without struggle. Likewise, if your font color is too close to your background color, then visitors are likely to leave without reading. It is best to remember that there is a simple path forward, where it is enough to read, a simple font, and a nice contrasting color against your background.
Understanding
You might feel like you want to print everything and explain to people exactly what you are talking about without bells or whistles. It's okay, but you have to remember that everyone has a different way of learning. If you want to tweak it a bit, consider publishing instructional videos.
There are many pages on social media that post quick five-minute recipes or crafts. Users are happy to understand even if they don't wish to try it themselves. However, these visuals can improve your customer's knowledge of your product or service and help them understand why they should buy from you.
Factors of Web design Influence on Content Marketing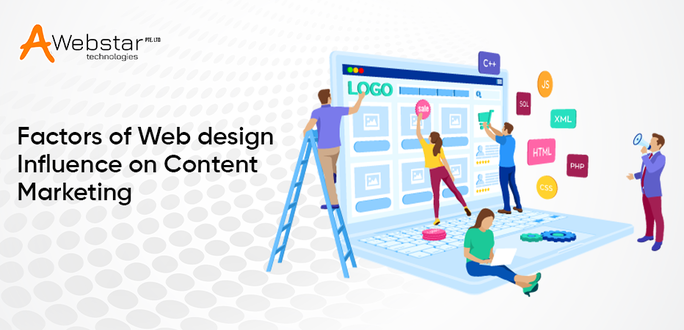 Frees up the accessibility of content
Despite having good quality content could lead to having unfavorable results. The design having easy navigation allows users to redirect each web page easily. Also, the drop-down and hamburger menu eliminates the traditional ways and enables visitors to access the pages seamlessly.
Allowing visitors to browse some redundant pages and access the data makes them move to competitors' websites. And, hence, results in a bounce rate. We advise adding elements such as search bars, drop-down menus, and hamburger menus at the tops of the web page. This way, the visitors can check every page and content category with a single click. It must integrate a sitemap because the users who came to your site with marketing means can get what they are searching for all at once.
Strengthening the aesthetic appeal of content
Web design plays a key role in improving the aesthetic appearance of your website and content. Moreover, the sites that require regular content updates must be designed with a neat and beautiful layout for post-launch downloads.
The content should not be spread all around. The visitors coming to your site to read the content can get frustrated with the inconsistency of posting irrelevant content. Definitely, they do not like to scroll if the page is not designed appropriately.
Make sure to arrange the web page neatly. There should be enough space and a well-defined structure (frames or boxes) to use the content. Always remember, the website design must have a visual hierarchy that appeals to the user's eye; does not make them confused.
Enriches the reading experience
Web design is not only the placement of different elements on the site but also the color scheme and typography on the resource. These elements directly affect the readability and visitor experience while reading the content. However, the readability of the content is highly dependent on the type of font, font size, color combination, depth, and consistency of types. Users redirected to the site through ad campaigns may turn back if they get stressed out while reading the content.
Website content must be shown in a proper format, considering passive voice, transition words, easily read sentences, etc. It all in combination improves the content readability score.
In addition, do not add the flashy image, and assure that the text and background color are complementing each other. The font size of the body and header content must match to enhance its appearance. You can include appealing colors, typographer variables, and varied designing trends to engage visitors. All these elements must be simple to assure an effective content marketing strategy.
Attracts visitors with visual elements
Designers have the right to play with their creative knowledge and add as many visual elements as the content allows to attract visitors. Visuals like images, videos, infographics, animations, GIFs, and more can be a great way to increase overall visitor engagement on a page. While efforts to promote content can drive more visitors to a page, visuals in a design can increase appeal by engaging the visual senses.
With 82% of internet traffic predicted to come from video content, embedding video content in blogs can be a great way to boost traffic conversions and increase. Add visuals such as images, videos, bar charts, infographics, charts, and screenshots. To simplify complex information and data and lead readers to the end.
Web design and marketing go hand in hand. Website design changes can have a huge impact on content promotion efforts. Create a content-focused website to make the most of your content promotion efforts. You can also join forces with the best content writing providers and designers to drive revenue from your ad marketing.
Concluding Remarks
You should think of your website as your project. Bringing many elements of web design together can help create a website that stores all the information you need, but the actual look of the pages is up to you. Think about your own browsing experience and what sites you like or dislike.
Keeping track of your readership can help improve your brand overall, as your site needs to be designed for your visitors! After all, these are the ones who use it. Make sure everything is easy to find, and you will get brilliant results.