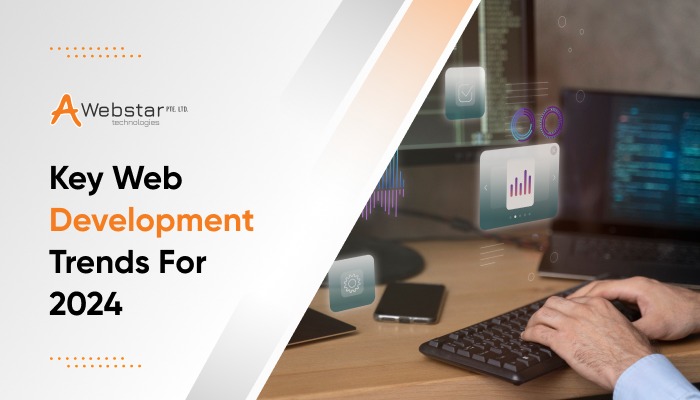 Key Web Development Trends for 2024
For a business to thrive in this competitive environment, the presence of a website that displays all the products & services in a unique manner is necessary. This not only gains the attraction of the target audience but also makes your company a part of the ongoing marketing trends. For designing a website according to your business models, there are new technologies to provide a competitive edge over rivals.
Thus, staying up-to-date with the latest Web development trends in the market is utterly important. In 2024, new advancements are waiting to define the future of web development.  It is highly preferable that modern websites are easy to use on a smartphone with faster page loading speed. 
Presently, every second of load time accounts for 7% of leads as of 2023. Keeping this statistic in mind you must understand the top web development trends for 2024 that will help meet people's requirements and make your business flourish. Let us get started!!
Types of Web Development
There are three types of web development that are explained in the following section. So, without any further delay, let us resume our journey.
Front-end Development
The various aspects of applications that are directly accessed by end users are typically developed by front-end developers. Thus, the development process places a significant emphasis on the end-user experience. The elements include various code and design strategies generally connected to one another.
Back-End Development
The server-side or back-end development takes into account the functionality of a website behind the scenes. For constructing the website's server-side logic, database administration and server configuration back-end developers are employed. They make use of programming languages like Python, Ruby and PHP.
Full-Stack Development
The type of web development combining both front-end and back-end development is a full stack development. These developers are skilled in multiple programming languages and are able to handle the entire development process with or without a team.
List of Noteworthy Web Development Trends
The global market is evolving at an alarming rate. Therefore, staying at the forefront of the competition is genuinely important. This section of the blog post will emphasise noteworthy web development trends that you must be aware of. Let us take a look at them together.
WordPress Development
This Content Management System backs up 40% of all the present websites on the internet today. As a matter of fact, this open-source platform keeps adding new features to meet users' needs from time to time. This flexible and user-friendly platform is expected to get a renovation in the coming year as well.
Moreover, a new navigation structure will enable a more straightforward user experience as it aims to bring together the post editor and template experiences. Also, new design tools will also come into the picture to bring your site to life.
Optimised Voice Search
One of the most important web development trends is voice search optimization. Moreover, it helps every marketing company gain a competitive advantage, elevate website traffic and increase conversions.
Presently, with the increasing popularity of voice-activated devices and virtual assistants users interact with websites using voice commands very smoothly. Therefore, web developers must focus on elevating the conversational capabilities of their platforms. This would provide a user-friendly and accessible experience.
Single Page Application
The alteration of an existing web page dynamically using fresh data received from the web server is termed a single-page application. However, the traditional web browser loads totally new pages, this method loads the previously seen sites.
This enhances user engagement and enables developers to create responsive and interactive web applications. These are especially suited for mobile devices and thus make a key element of modern web development strategies in 2024.
AI ChatBots
In the upcoming year, AI chatbots will become even more sophisticated to meet users' needs. Moreover, bots will more efficiently match user behaviour by using machine learning, natural language processing and information retrieval techniques. AI-enabled chatbots also help improve customer experience.
It can be used to collect data, answer FAQs and solve other issues. Consequently, many prominent B2C companies serve their customers with AI chatbots. It is expected to see AI chatbots gain more momentum in 2023 as marketers use AI way more than before. In fact, it has increased by 190% between 2018 and 2020.
Augmented Reality
This is one of the critical web development trends that allows one to overlay digital information on top of real-world objects. Web AR is very similar to virtual reality. The only difference is instead of immersing you in a new environment, it enhances your current view with additional information.
Hence, AR is expected to be a prominent web development trend in 2024. This technology uses smartphone cameras or AR glasses. Also, web developers are exploring innovative ways to integrate AR into websites and applications.
Accelerated Mobile Pages
Nowadays, the speed of a website determines the choices of a customer. Accelerated Mobile Pages(AMP) will continue to be prevalent in web development for 2024. It is a framework developed by Google to improve the loading speed of web pages on mobile devices.
AMP pages are designed to load almost instantaneously which leads to a swift and efficient user experience. Web developers are increasingly prioritising the creation of AMP versions of their web content to cater to a growing mobile audience. It will also enhance mobile performance and ultimately gain better search engine rankings.
The Bottom Line
In a nutshell, the world of web development is headed for a range of exciting changes in 2024. The above post describes the types and the prominent Web development trends in the upcoming year. Therefore, check out these trends and technologies now to cultivate their full potential and remain competitive in the ever-evolving digital landscape.
Awebstar Technologies in Singapore offers varied options for Web Development Services. We follow a client-centric approach keeping your requirements at the forefront of every action. Valuing the time of our clients we prefer working diligently to create outstanding design solutions. We do not compromise on quality and deliver our projects within the agreed timeframes. Hence, we are fully committed to shaping your idea into reality.