Key Benefits of Online Queue Management System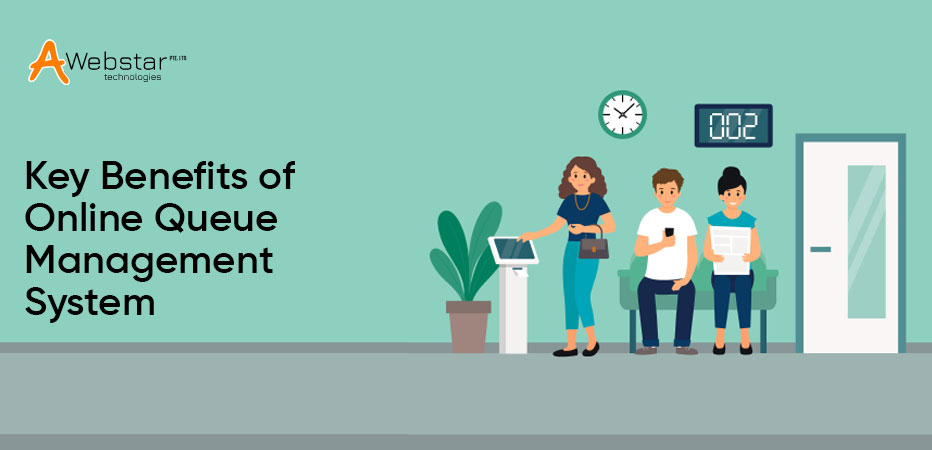 Long waiting lines not only frustrate the consumers but leave a negative impact on the businesses.
Of course, they hinder the time of both visitors and the staff!!
Hence, this is the one reason people are shifting to online shopping. This saves users the time to visit the store physically and schedule appointments online. Also, the crowd in the waiting area decreases, resulting in more efficient staff and time management.
Customers have different views for long wait times:
Therefore, ensuring that your business stays away from queueing concerns, keeping the queues organized is the key.
Being a business owner, you should know that it is your responsibility to provide an exceptional customer experience. If you fail to do so, you may lead to experiencing customer loss and a decline in revenue.
Queue Management System Explained

The main goal behind implementing queuing systems is to avoid long queues and waiting for the inconvenience. However, besides organizing queues, it also works as CRM. Along with the user experience, queues play a vital role in enhancing customer interactions and boost consumer loyalty.
Queue examples involve:
Queues have a defined structure, such as standing in a line or using a booking system.
Queues that are unstructured, like queue formation with little or no supervision.
Virtual check-ins before visiting a business or scheduling appointments.
The automated queue management system is intended to prevent walk-ins, arrange online appointments, and manage consumer flow. It can also manage queue control, ticketing, and digital signage, among other things. Access to perceived wait times, appointment alarms, and queue progress are among the other features.
Overall, integrating such a robust system can handle all the queuing hassles, especially in this tech-enabled world. So, if your queues are managed, your consumers will be happy.

Key Advantages of Queue Management System
Improves Service Quality
Regardless of how good or bad the experience is, it defines the overall insight of the business service interaction.
Using automated queue management software, customers can check their place in virtual lineups digitally at their comfort.
Also, customers can invest the saved time of waiting in long lines to complete other daily tasks.
This way, your clients can have a more pleasant impression of your brand.
Furthermore, you may improve the quality of your service by naming the input fields that display during sign-in. As a result, you can better customize services by utilizing client data and segmentation.
Customers can check-in virtually, lowering the number of people in physical waiting rooms. Also, it saves the staff from having to deal with unwanted interruptions. Furthermore, Awebstar's queuing solution dashboard feature provides you with comprehensive control over your organization's queue management.
Overall, understanding your consumers and their preferences can help you turn the maximum visitors into buyers.
Reduce Wait Times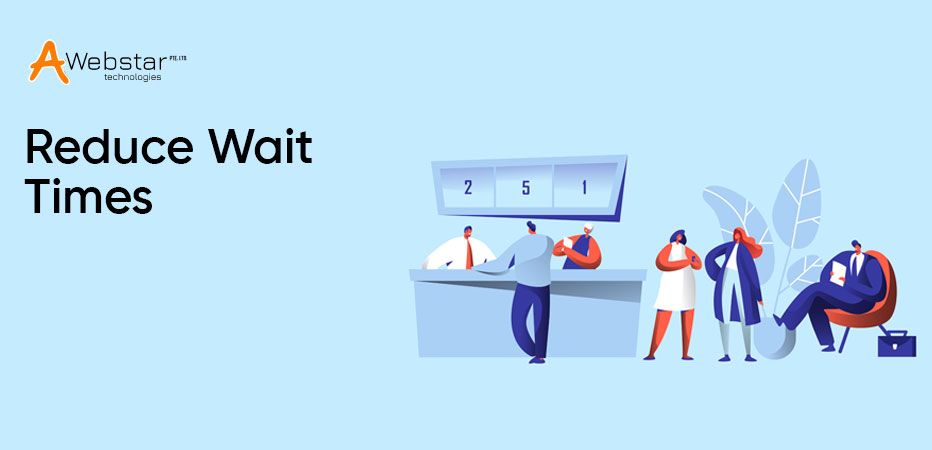 One of the most common sources of customer dissatisfaction is standing in long queues. It can frustrate the users and lead them to quit your services.
Even the studies show that.
However, structured queuing software can help you better manage the user's waiting time and deliver them an outstanding service.
Awebstar's queue management assists in dealing with improper queue organization, enhancing queueing operations and customer flow.
This is how it operates: Utilising the tablet mounted on the entrance gate allows visitors to effortlessly check-in. They can select the required service, submit personal information such as name and address, and virtually join the queue.
The best part of queuing systems is that visitors need not be in long queues and can wait remotely for their turn.
The virtual system tracks the position of every consumer and keeps them and staff informed about their progress in the line.
Additionally, queue management systems benefit customers by directing them to the appropriate queue based on their service preferences. Thus, you can improve customer service and assist them if they fail to choose the proper service queue.
Overall, this reduces consumer wait times and reduces the stress that comes with standing in long lines.
Enhances Customer Loyalty
Many businesses still assume that lines have little impact on growth or customer flow and that eliminating them is unnecessary.
However, if you don't implement the right queuing solution, you lose all of your clients. Customers may decide not to return to your brand if they have had a bad experience. Of course, several alternatives in this competitive and fast-paced age make the customers turn to other service providers if a brand fails to match their expectations.
Furthermore, such a bad experience leads to customers sharing poor reviews and spreading negative word of mouth.
Hence, resolving the issue of long waits prevents your clients from leaving your services and switching to your competitors. Reducing customer complaints is one way to achieve customer loyalty and retention.
To do so, rely upon one of the most significant advantages of Awebstar. It includes the ability to eliminate customer complaints as much as possible. Also, it assists in appropriately managing queues and providing a user-friendly platform.
Overall, it is the ideal queueing platform for any business vertical to suit their queue management requirements.
Improves Staff Satisfaction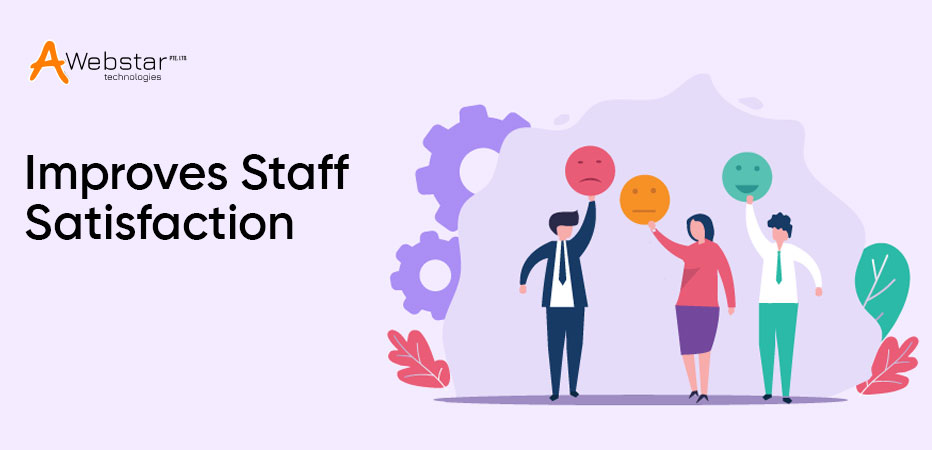 Managing customer queries manually is a difficult task. As a result, there is ineffective queue management and time optimization.
Here, queue management systems deliver peace of mind to both customers and employees. The effective Awebstar's queuing system allows for adequate staffing. Also, it assures that everyone is in the right place, doing their job.
Employees can focus more on the critical tasks as the need to handle the customer traffic and paperwork manually is eliminated.
Because the self-service queueing system handles everything, staff can use their free time to deliver excellent customer service.
Simply put, if your employees are happy, so are your clients.
Streamlines Interactions
Thinking about what queueing system has to do with customer encounters or communication?
Simple!!
Automated queue management systems enable the firms to provide the customers with the search service in their preferred languages. Upon sign-in, it allows the visitors to pick their preferred language, reduce the confusion, and let you know how to reach them.
Furthermore, combining queuing solutions with digital signage provides visitors with real-time information about their queue status.
Customers can simply watch the waitlist on a screen, keeping track of their position in line and perceived wait time.
Lastly, an effective virtual queuing system enables the firms to interact with their visitors via SMS and booking notifications.
Also, such a communication channel is beneficial in exchanging messages with customers. For example, update the customers with any service delays, change in appointment schedule, or get positive insights.
Leverage Client Data
At both the consumer and company levels, a queueing system can gather data insights and understand demands. Data on factors like user feedback, average bookings, and who your target audience is may be available in the reporting.
Moreover, integrating a queuing system ensures that your data is maintained across your CRM systems. This way, you can reduce the staff's working hours depending on the customer inflow or enhance the email marketing depending on your top target audience, queue data, and other metrics. Also, you'll be able to better understand your business's success and make changes as needed.
As a result, you'll be able to make better decisions across all of your business units.
Awebstar's queuing software lets the firms gather feedback and opinions from the customers to better understand their perceptions. As a result, you can use this information to meet clients' demands while staying true to the business goal.
Minimize Operational Costs
Improving business productivity, reducing wait times, and increasing customer satisfaction all contribute to lower operational costs.
You can easily explore service inefficiencies whenever you gather reports or data, saving you the net profit.
For example, reports from QMS can help you figure out your workforce productivity. Also, online databases save time that your employees may otherwise use manually to complete paperwork.
As a result, by eliminating inefficiencies and resource waste, you can boost your company's revenue. The queuing system from Awebstar can help you achieve optimum efficiency and create very successful corporate operational procedures.
Increase Business ROI
One advantage of adopting queue management software is that it reduces the cost of queuing. The additional money is another advantage.
Customers are more likely to browse your online store again if they have the freedom to manage their time effectively.
As a result, this is a significant benefit that many business owners overlook when using queuing software and end up losing consumers.
Enhances Brand Reputation
Customer trust is built through effective business queue management. Customers' impressions of the brand appear to be good when they feel their time is appreciated.
Reduces Walkaways
When customers enter a store and see a queue of people streaming out the checkout counter, they become demotivated. Consumers are accustomed to purchasing online these days and like the convenience of doing so. This makes it far too easy to skip the lines and choose a different option.
This means that all businesses must adapt to new technology to suit the expectations of modern clients. In this case, the queuing solution helps in lowering the need to escape away from long lines.
Visitors can check-in virtually, monitor their status via mobile app, and arrive at the place when their appointment time approaches using Awesbstar's queue system. Your visitors will be able to communicate with your company more easily and according to their preferences as a result of this.
Because you can't track the specific metrics of walkaways, it's tough to improve the customer experience and get ROI insights. However, using Awebstar's queue management system can help you avoid losing profits due to irritated consumers.
Wrapping Up
The key to achieving all of these critical aims is to meet consumer demands. If your customers are happy, your company's ROI, productivity, sales, and other KPIs may improve.
Awebstar's queue management software can help you cut down on customer wait times, tailor your offerings, and keep your employees motivated.