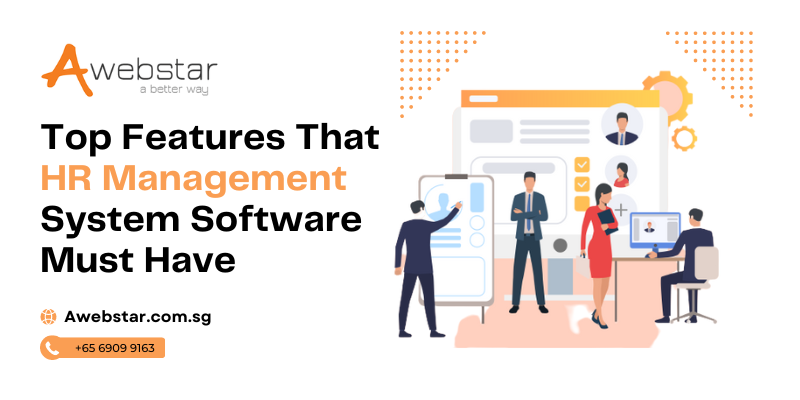 Top Features That HR Management System Software Must Have
A Human Resource Management System (HRMS) software is a type of computer application designed to help businesses manage and automate their HR processes. It typically includes modules for employee data management, recruitment, performance management, payroll and benefits administration, and other HR-related tasks.
Businesses need HRMS software because it can simplify and streamline their HR processes, reduce paperwork and manual data entry, and provide real-time access to employee data. Here, by investing in HR Management Software in Singapore by Awebstar, businesses are improving compliance with labor laws and regulations. Also, they can enhance employee engagement and retention, and make data-driven decisions about workforce planning and development. Overall, HRMS software can help businesses save time and money while improving the efficiency and effectiveness of their HR operations.
Enhancing HR Operations: Top Features for HR Management Systems:
Human Resource Management System (HRMS) software is a vital tool for managing an organization's employee data, payroll, benefits, recruitment, and other related HR processes. There are numerous features that HRMS software can offer, but here are some of the most critical features that every HRMS software must have:
Employee Information Management:
An HRMS should have the capability to manage employee information such as personal details, employment history, qualifications, performance, and contact information. It should also allow HR managers to access and update this information at any time.
Payroll Management:
Payroll management is a crucial feature that allows HR managers to manage employee salaries, tax deductions, and other payroll-related tasks. It should also allow the creation of payment schedules and provide automated payment options.
Time and Attendance Management:
This feature allows HR managers to track employee time and attendance, including working hours, vacation, and sick leave. It should also enable managers to generate reports on employee attendance and compliance with company policies.
HRMS enables employees to clock in and out, record breaks and lunch times, and log overtime hours using various tools. It must include biometric scanners, mobile apps, and web-based platforms. The feature provides real-time data to managers for effective workforce planning, scheduling, and payroll management. This capability not only improves workforce productivity. It also reduces the administrative burden of manual timekeeping. Thereby, increasing accuracy and reducing errors in data recording.
Benefits Administration:
HRMS software should enable the administration of employee benefits such as health insurance, retirement plans, and paid time off. It should also allow employees to view their benefits plans and update their information as necessary. HRMS also provides a dashboard for HR managers to monitor benefits utilization, track employee claims, and generate reports to comply with regulatory requirements. It reduces the workload on HR personnel, improves data accuracy, and increases employee satisfaction by providing easy access to benefits information and enabling self-service. Overall, such a feature is an essential tool for managing employee benefits, improving benefits communication, and enhancing the overall benefits experience.
Performance Management:
This feature allows HR managers to monitor employee performance and evaluate their progress. It should allow the creation of performance metrics and provide employees with feedback on their work.
It is helpful to identify strengths and areas for improvement. HRMS provides an objective basis for evaluation by collecting and analyzing performance data, including employee attendance, training completion, and project completion rates. The feature also helps HR managers identify high-performing employees and plan for their career growth. Ultimately, the Performance Management feature in HRMS improves employee engagement, enhances talent management, and drives overall business performance.
Recruitment and Onboarding:
HRMS software should allow the management of the recruitment process, including job posting, applicant tracking, and resume management. It should also enable the creation of onboarding workflows and the tracking of new employee onboarding.
Reporting and Analytics:
Reporting and analytics features allow HR managers to generate reports on employee data, payroll, benefits, and other HR-related metrics. It should also enable the creation of custom reports and provide real-time insights into HR metrics.
Mobile Accessibility:
Mobile accessibility allows employees and managers to access HRMS software on their mobile devices. It should provide all the necessary functionality and allow for real-time updates and notifications.
Security and Compliance:
HRMS software should provide security features to ensure that employee data is secure and complies with data protection regulations. It should also provide audit trails and tracking capabilities to track changes made to employee data.
Winding Up:
In conclusion, HR management system software plays a critical role in managing the human resources of an organization. It allows HR managers to manage employee data, payroll, benefits, recruitment, and other related HR processes. With the right set of features, it can help streamline HR processes, increase efficiency, and ensure compliance with various regulations.
Some of the top features of an HR management system software must involve an employee database, attendance and leave management, performance management, payroll management, and reporting and analytics. Additionally, features like mobile access, customization, and integration with other systems can provide added benefits.
Besides, it's important to evaluate the specific needs of your organization and select a solution that can address those needs. It's also vital to consider factors such as ease of use, security, customer support, and cost.
You can invest in the best HR management software in Singapore from Awebstar. It has all the right features that can help organizations better manage their human resources. Thus, contributing to their overall success.