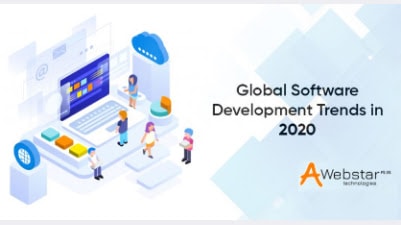 Global Software Development Trends in 2023
Technology has revolutionized the digital world for many years. And is still expediting. It has given us outstanding resources and tools to access every bit of information on our fingertips. 
Its revolutions have changed our lives and made it better, faster, easier… the list is absolute.
The below quote clearly depicts that technological change is inevitable. It is changing so rapidly that it is very tough to predict what is going to happen next? 
"The last ten years of IT have been about changing the way people work. The next ten years of IT will be about transforming your business." — AARON LEVIE, CEO OF BOX
We don't think there is any industry (from health-care to education) that had remained untouched with this revolution. Because every sector has thrived to succeed, so they are adapting the online information technology with open arms.  
Significance of Software Development Industry
The software development industry is also one of them and has now become one of the rapidly growing. 
Software development has now considered an essential innovation and gives smooth conductivity in business with less effort.  
For different business processes, the top digital marketing company automatize the plans and enhances the efficiency and productivity level. Business software development has now the potential to fulfill 100% of your requirements.  
The projects developed by software agencies are adopted by 70% of those who are interested. Its benefits and the trends are insisting the inhabitants switch to this sector. To be very precise, now you can search for everything on the internet and it is known that its future would be more interesting. 
For instance, if we only consider Blockchain, then statista has revealed that till 2023, the market is expected to be rise by 23.3 billion US dollars. 
If we look at 2023 (future) of software development, it is believed that it will offer endless possibilities. So, if you have a desire to shine among your competitors, then it is essential to follow the right strategies. 
The professionals/experts have believed that using advanced technologies will make our life easier, better and will continue to be at a better place than they are recently are. 
"At least 40% of all businesses will die in the next ten years… if they don't figure out how to change their entire company to accommodate new technologies" – John Chambers | Executive Chairman, Cisco Systems

How and What to choose?
But, here, the question is how and what to choose that will not fade away anytime soon? 
Which ideas are more feasible and which has transitory plans?
So, without any more ado, here are the most beneficial software trends that we assume will be more meaningful in 2023. 
Technological Trends to Watch in 2023
Artificial Intelligence (AI)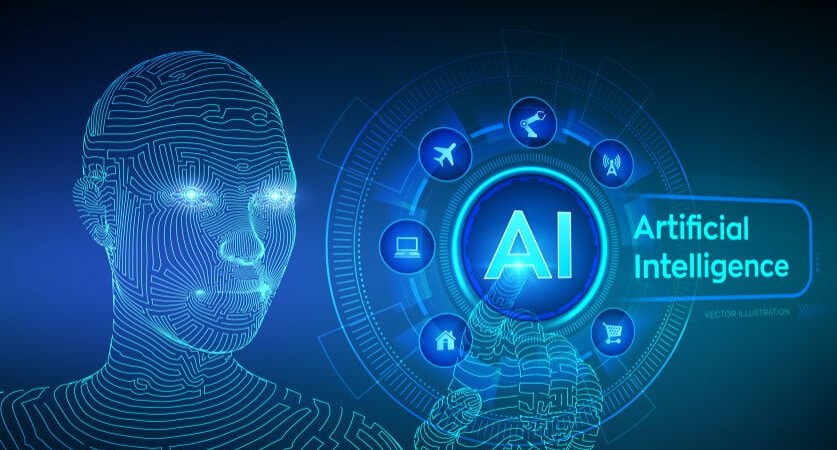 AI has established a space for itself for some years now into every sphere. And for sure, it has also discovered a place in 2023 technological practices as well. 
As per the reports by Gartner:
It is predicted that by 2024, approximately

75% of enterprises

will enhance their worker's productivity with the integration of artificial intelligence.  

20% of operational bank

staff will be engaged in performing their non-working work by 2023.

The infrastructure and operational team will leverage AI in the big companies and will increase their work productivity by

40% until 2023.
The above statistics are clearly depicting the importance of AI in our lives. It is not only about 2023, but it is also sure that AI is not going to fade away for the next five years. It is and would be the basis of every development and will overtake most of the human tasks. 
The robust data it will accumulate, the faster it will be to analyze and more seamless it will be.
If we consider the recent times, AI is assisting systems to: 
Seeing (with facial recognition)

Interpret ( analyzing messages and reports)

Hearing (accessed by amazon echo for responding the commands)

Recording emoticons (intelligent computing)

Speaking (Siri to give answers)
It can be said that artificial intelligence will definitely boost software development in the coming years. For its implementation, direct program functionality would be used by user orientation, accordingly, the website will be automated to improve the Quality of Service (QoS). 
5G Network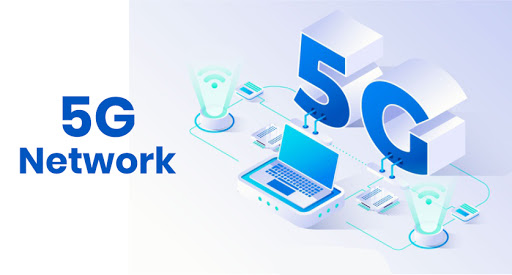 5G is famous for giving a spell of the bolt as a fast internet connection. Some of the prominent names in the market, like, AT&T, Qualcomm, Nokia, Verizon, Huawei, and Ericsson are assuring that the 5G should stay.
The trends are like that now every Android handset builders are producing 5G handsets. Gartner has made following predictions for 5G network for 2023:
There is a boost of the X2 5G network between 2019 and 2023.

There would be an 89% increase in 5G network revenue.

$4.2 billion is estimated revenue of 5G network till 2023

It will hit

$6.8 billion in revenue till 2024.
Surely, 5G will enrich the user experience by giving high and enhanced data rates, though, gives more chances to be in the list of software development trends of 2023.
Blockchain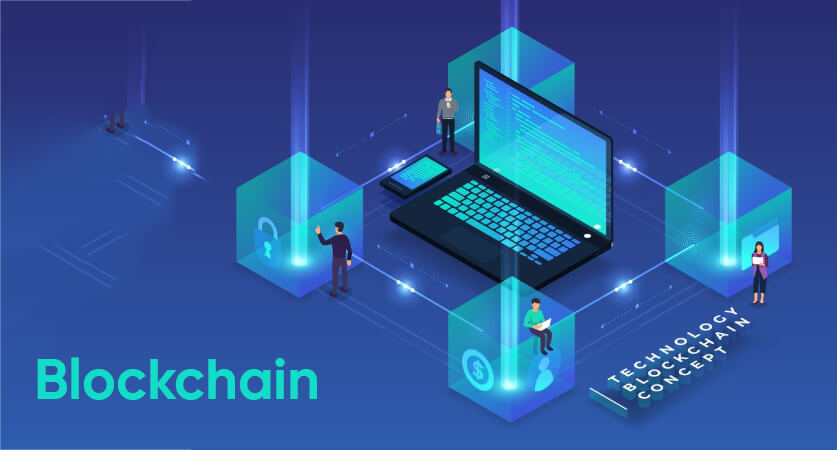 Though Blockchain is not new, the chances that it will vanish are zero. Because of the cryptocurrency, it has become popular, consequently, every industry of this sphere is using it. 
The best thing about Blockchain is that it is more secure, and it soon becomes significant in every development aspect. It has helped save several resources to ensure the protection and efficiency of service or an enterprise. It is clearly increasing individual development and the global GDP of every enterprise.
Blockchain will change the direction radically in the future and it is expected that in 2023, we will surely see that Blockchain will execute something beyond crypto. 
From a current PWC report, it is analyzed that almost 77% of financial institutions will accept blockchain technology for their production system. As per the reports by Gartner, Blockchain will give 1 billion dollars of business value by 2023, so, Blockchain will encourage new skills, and in 2023, it will change its attitude.
Programming Languages
Being a part of digitization, programming languages empowers the users to control the system with suitable instructions. Several programming languages are there in the web world, however, half is not active and will diminish in the future. 
So, exciting is to find which languages are making efforts to stay. To check which languages have lost their spark in the past and which languages are ahead, below a graphical representation is given certainly.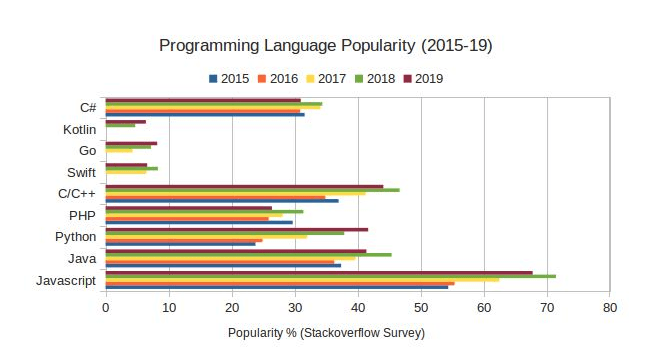 (Source: https://codinginfinite.com)
The graph shows that:
JavaScript (JS) is standing out among others

Python is constantly staying above 

C and C++ are competing with Java

New languages, such as Kotlin, Swift etc are gaining popularity swiftly
To check, which are the most loved, dreaded and wanted language, sum up the below statistics.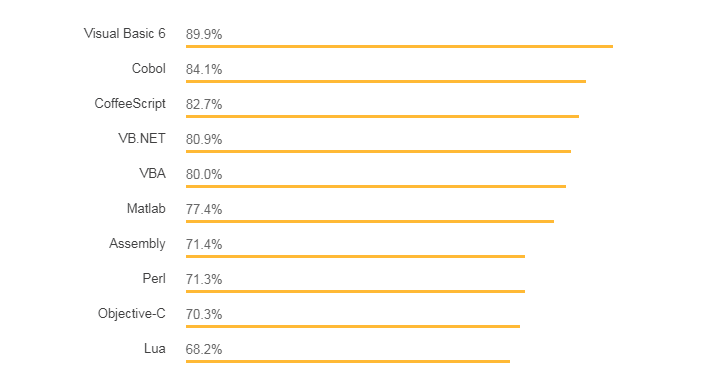 (Source: https://insights.stackoverflow.com)
As we can see, Visual basic is the most loving language with 89.9% among others, and VB.Net is still making efforts to being on the top. To check the languages that are developing rapidly, however, the below statistics will help you out. HCL, Kotlin, and Go have entered into the game to be on the top and likewise, giving the major reasons to competitors to compete.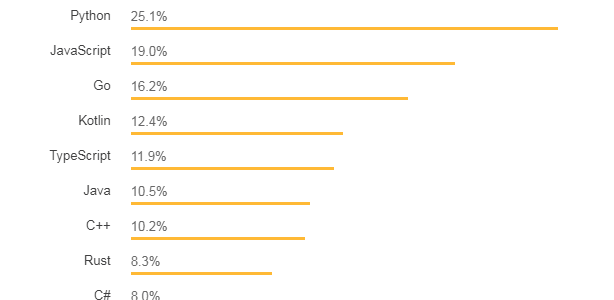 (Source: https://insights.stackoverflow.com)
Voice Technology
From the time it emerged in 2011 with an invention of Siri, it has gained a great tech innovation. Because of the regular change in the user demands, voice technology is turning everyone's head. The computational capability is responsible for the voice interaction of the machine. 
As per the increased usage of voice interfaces, the algorithms are performing better and thus, enhances the accuracy of speech recognition.
As per the statistics:
50% of the searches will be executed by voice in 2023. 

Revenue increase of

$15.8 billion is estimated by 2024

35% rate will be the annual growth rate 
In the future, the companies will have voice enable interfaces to interact more flexibly and freely.  Soon, there will be voice intelligence instead of automated restaurants, cashier-less stores, and self-driving cars. 
More and more companies are competing with each other to stay ahead because of the rapid increase in the popularity of Voice AI.
Chatbot
Those who are using Artificial Intelligence in their daily routine, therefore, knows the benefits Chatbot attains.
It is shaping business growth by being available 24X7 to users. It has become critical for businesses because it is accepting the practical ways to engage more effectively with customers.  
As per the reports by Gartner, 47% of the enterprises will use a chatbot for the ease of customers in 2023.

68% of the customers assume that messaging/chatting is the most reliable way to stay associated with updates of the businesses. 

For shopping online, 47% prefer open purchasing via chatbot.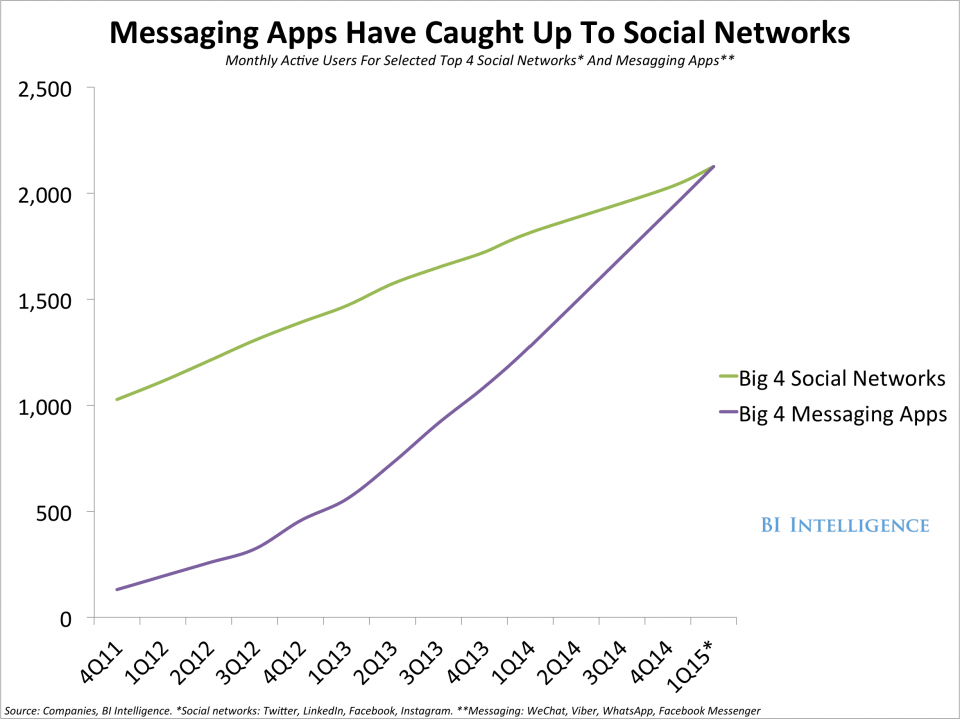 It is believed that:
Chatbot saves time and does not let the customers wait for long to have a response. It can serve more users and increase productivity at less cost.

It is cheaper as compared to the hiring agents. Its range is from 2000 to 10000. This figure might change according to the complexity. 

The next and important factor is customer satisfaction. It is available 24X7 to solve all your queries and therefore, does not frustrate the customers and increase your business profits.

It can increase the customer base and subsequently,  grow your business and give assistance to several applications. 
Internet of Things (IoT)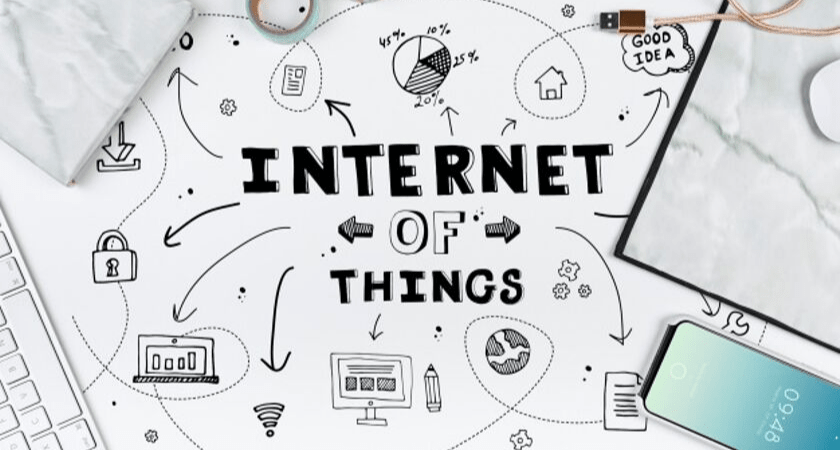 The Internet of Things has been active for some time in software development trends.  Cloud, Internet Servers are the linking platform for several devices that we use in our daily life.
It incorporates everything from washing machines, lamps, coffee makers, cellphones, to wearable devices, and many more. 
According to reports by Gartner, there will be approximately 26 billion connected devices. And it will become an extensive network for connecting the things (users as well). The connection that we are expecting will be of user to user, things to things, and user to things or vice-versa. 
It is a hope that IoT is here to enhance the effectiveness and subsequently,  for amplifying energy use.
It has opened a lot of opportunities and simultaneously, some challenges as well.  
The main concern is security when there is a linking of several websites.
Anyone can become insecure about their information. But, IoT has a solution and had opened a lot of companies that can secure you from the security threats and hackers.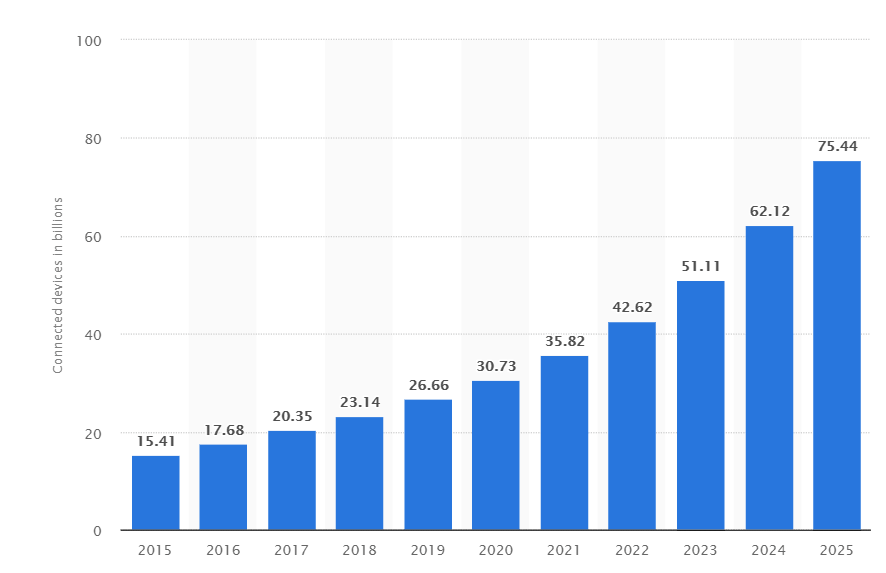 (Source: statista.com)
With regular interaction of applications and technology, web development and service delivery will be more productive and robust. 
Edge Computing
To integrate into the future technological trends, the enterprises must use an edge-based design pattern for their infrastructure architectures holding IoT elements. And to make it happen, colocation software network abilities and edge specific skills should be applied. 
Edge computing is a computing element that amalgamates content collection, information processing, and the deliveries towards information sources. It entertains the users with bandwidth restrictions, higher functionality, connectivity, and latency changes that could be embedded into the edge of the source. 
When it is about the change edge computing is going to bring to us in 2023, meanwhile, you need to take a look below:
It will enable an intelligent network.

Edge computing will perform significant analytics at the specified location and consider the results for accessing the specific actions.
Analytics
The analytics has a significant role to play in the growth of enterprises in this sphere. Analytics aims to assure you the role (successful) you are playing the market and even predict where the market will lead next.
Analytics seems easy on the surface, but it attains a significant amount of vast masses of the raw data. We know that a large amount of data is getting misty with Big data and cloud computing.
To get rid of this,  you need to use more of the analytical tools than using currently. These tools will identify the issues, make the data more identifiable, and will recommend the action to execute.
It is an outstanding use case for different emerging technologies. It would be beneficial in machine learning and artificial intelligence. 
Extensions
Not everyone is aware of the fact that extensions are one of the useful technologies in the 21st century.  The aim of extensions is to optimize the several websites. 
But, it has been underestimated by developers. It plays the role of bodyguard and assists immediately when required. 
There are many examples that define the significance of extensions. When it is about Grammarly, it does not drown you with the notifications. It shows the errors and corrects when you will point to that.
Grammarly does not make the changes by itself, and it is totally up to you to choose whether to make changes or not. Another example that you can consider is a recent history extension of the chrome browser. It provides you with the history of the previous searches (web addresses). 
You cannot underestimate the immense benefits it is offering, and it is for sure that it is going to shine in 2023.
Wrapping Up
The future is already here. We have discussed the trends that will pop up in 2023. These trends will disrupt the market for sure and are giving a clear idea of the ongoing development in the software development industries. 
Every person behind this is working hard to enhance the user comfort level. What significant is that companies should match their services with these trends so that they can stand out among their rivals. 
Get ready for the changes that the software development industry is going to bring.  But before adopting the trends, it is vital to understand them so that you implement this efficiently. Get ready and prepare yourself.
Any queries?
We hope you liked this article. Let us know if there will be any queries and suggestions in the comment section below. Your engagement will be highly appreciated. Happy reading.