5 Design Mistakes That Turn Disaster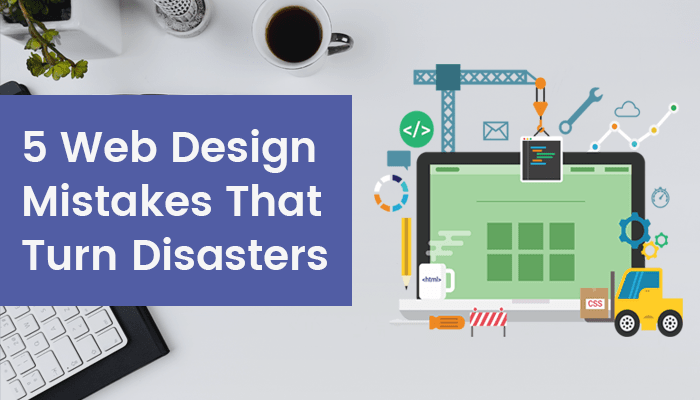 New websites are created every day in different parts of the world. Around 95% of all web designers ignore the important elements of different web design blocks and fail to make the most use of that. One must always remember that website design has a huge impact on the ultimate perception of a particular company/brand, the convenience of interaction with the site and its usability for the targeted audience.
A well-designed website can cause a variety of emotions and encourage customers to take the desired actions. However, errors in website design can repel customers away and make your web-based business null & void in the long run. So, let's begin the analysis of some main website design mistakes and consider their possible solutions.
1. No Uniformity in Web Design Elements
Every site has its own style. Individual design elements necessarily needed to combine with a common style for all pages of the website as it helps to achieve uniformity and facilitate the interaction of visitors with the site easily and effortlessly. Websites with uni-formed design elements attract users and they are most likely to come more than once from different sources. Internal page headers, subtitles in the texts, links, buttons, menu, icons, search bar, etc, are some important places of websites where uniformity in web design elements matter a lot.
 2. The Use of Small Fonts
There are many website owners who mistakenly believe that users read the content of the site and try to contain as much information as possible regardless of the use of fonts. This is a big mistake according to me. Always keep in mind that fine typography makes it difficult for people to view the content and prevents the eyes from moving freely around the site.
If you want to continue the use of small typography, use it only on short texts, divided into paragraphs and separated by a phrase or image. Consider using a larger font for titles, subtitles, and important content on your website. Content presented on your website using a professional font easily catches the attention of the targeted audience.
 3. Endless Page Scrolling
As a matter of fact, endless scrolling can be an ideal solution for individuals if they want website visitors to explore In-depth knowledge about specific tops. But, this approach can backfire you if users do not search for something specific, but look for the flow of information in order to orient themselves in the way they like.
Always keep in mind that Scrolling is easier and faster than a click and works well on mobile devices. But, infinite scrolling causes great inconvenience to users and they might leave your website immediately without giving you any business opportunity. As a web designer, just Test the effect of endless scrolling on user behavior. Consider using pagination instead of scrolling if it suits your needs very well.
  4. Too Many Pop-ups
The use of pop-ups on websites is soaring rapidly with each passing day as Well-designed pop-ups can bring a lot of benefits to entrepreneurs and help them expand their business by leaps and bounds in all directions. Have a look at the other side of the situation as well. Sometimes, pop-ups cause discomfort and irritation to users and leave your website soon after landing without taking any action.
Try to avoid using "aggressive" pop-ups on your website as far as possible. Make sure that pop-ups don't appear immediate once visitors land on your website. Make them unobtrusive with no presence of overlapping content. Create attractive popups with attractive texts, helping users to collect some interesting info and take the desired action.
5. Background Video / Audio
These days, many website owners use video or audio background for websites as it helps them (in some cases) to attract the attention of users. But, it can backfire also. Millions of active internet users are not comfortable with websites having video or audio back groups. Such a resource creates the impression of you as a technologically advanced brand or company, but it slows down the site loading speed up to a great extent. As a result, the visitor's attention is lost, which is a direct loss to your business.
As a website designer, do not follow the trends blindly just to make your website look stunning. If you use a background video on your website, make it smarter to convey the main message of your brand. Let it be a small, but a very high-quality video that deserves the attention of the audience. If possible allow visitors to control the sound and repeat the video with the 'play' and 'pause' buttons as per their desire.
Final Words
To be Frank, the drawbacks of visual design are quite serious and its impact is clearly shown in the performance of the website sooner or later. Just analyze those mistakes and contact a professional web designer for troubleshooting. Once the job is done, you can expect a steady flow of traffic to your website and high conversions every day. Good luck.