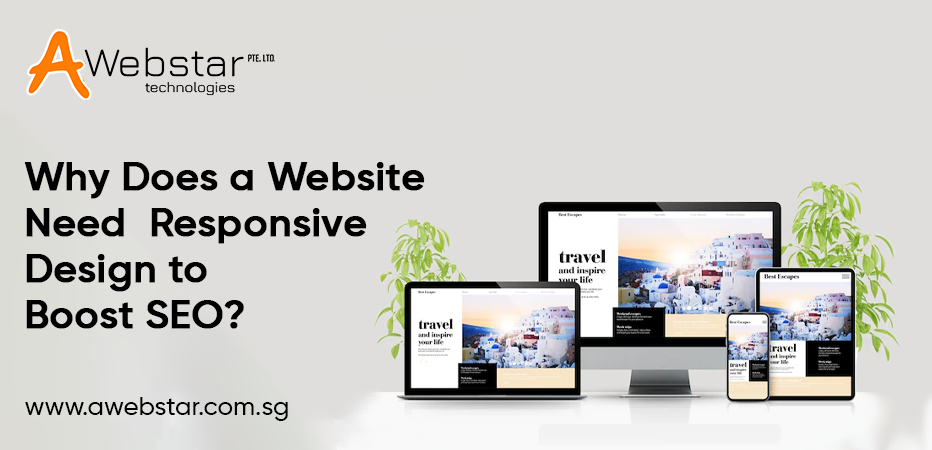 Why Does a Website Need Responsive Design to Boost SEO?
A large percentage of users access the websites from their mobile devices. If the website is not optimized for desktop and mobile devices both, then, you can lose a good chunk of visitors. Google suggests responsive web design as the best practice. The responsiveness of your site improves user experience and search engine ranking. According to 73.1% of web designers, non-responsive design is the prime reason visitors abandon the website. So, if your site is not responsive, then, it is time to either redesign it or start from scratch. Still not convinced about the importance of responsive design for your website and how it is linked to SEO? Then, read the blog to find out how it ensures users' smooth experience and a positive impact on search engine ranking.
How does Responsive Web Design Impacts SEO?
Website Usability
Do you know that 53% of the site is abandoned by mobile users if it takes more than three seconds to load? Yes, it is true! Users do not like to waste their time if the sites are not loading at the right time and prefer to move to other fast-loading sites. Remember, if your mobile site is slow then, you can lose ranking and a good amount of traffic also. When you choose to have a responsive website design, then there will be an enhancement in website functioning, optimization for mobile search, content scaling on every device, and most importantly, a seamless browsing experience. So, do not neglect to have a website with responsiveness and get opportunities to convert the visitors to customers.
Google Switches to Mobile-First Indexing
Recently, we have seen that Google has switched to a mobile-first approach. Because the number of users accessing the site on mobiles has increased, hence, mobile-responsiveness becomes essential. Google has given a list of approaches to be used for mobile-first indexing ensuring the best user experience. Some of them are:
Overlooking the fragment UTRs on the mobile-ready website.
Error page should be the same as the desktop and mobile sites.
Assure every desktop web page has a similar mobile page.
Monitoring hreflang links on different mobile URLs.
Examining desktop and mobile sites in the search console.
Confirming that mobile site handles higher crawl rate easily.
Ensure that the robot.txt directive is equivalent on desktop and mobile websites.
So, if your website is fulfilling all the above practices and has a responsive web design, then, your site will be ranked higher and indexed by Google.
Positive User Experience
As a website owner, you must know that UX impacts SEO. Ofcourse, you are building the site for the users, hence, they are your prime focus. For creating a responsive web design, there are some elements that require consideration. Optimized Images, navigation, typography, and micro-interactions are some of them. It is important that whosoever is landing on your site can easily navigate and check out the content properly. Certainly, you do not like the visitors to scroll left-right, up-down, zooming in, or zooming out. It is said that a positive user experience can improve the conversion rate from 200 to 400%. Therefore, create their first experience on your site as the best one with the responsive web design.
Less bounce rate
Bounce rate is the percentage of the visitors visiting your web page and leaving immediately. It indicates that they have a poor experience on the site. Google considers it to measure the relevance of a web page for search queries. And the higher bounce rate results in a drop in search engine ranking because, for Google, your site is not capable of answering the query.
Certainly, content is the factor in bounce rate, but, website designing is also one of them. Having high-quality and informative content, but, a poor website design can make you experience a higher bounce rate. Many experienced web designing companies have recommended that websites with mobile responsive design can lower the bounce rate. It not only manages the content in an organized way but ensures accessibility to every device. Hence, enhancing the user experience and boosting the ranking.
Duplicate Content
Even if the Google crawlers are advanced, they need guidance from SEO to know the web pages that are more important for a specific site. Many choose to have a different mobile site which results in duplicacy of the content. The reason is that also with the separate URLs of the desktop and mobile sites, they have similar content.
Because of this duplicacy, the ranking can drop if you will not let Google find out the page that is more important. Otherwise, you have to face the issues of lower search engine ranking. With responsive web design on the site, the issues of duplicate content will be resolved because there will be one URL only that the user can access from any device.
Boosts Content sharing on social channels
When it comes to social media, it is one of the best marketing strategies. It is not only vital in SEO campaigns but ensures more site traffic. With the responsive design of your site, the content can be shared on leading social media channels, improving the outreach. Wondering how?
The users will access similar content on mobile and desktop devices, and share it on their social media handles and with peers also. However, unlocking all the great opportunities for improving visibility. Higher traffic implies higher chances of converting.
Higher link-building capacity
The links with high authority to your site are essential for search engine optimization. Undeniably, it is also one of the ranking factors considered by Google. In case the site is unresponsive or slow, then, the third-party publishers will not provide a link to it. The reason is they will not prefer to divert the visitors to the low-quality and slow site. On the other hand, with an easily accessible responsive site, the publishers will provide links to the site.
Concluding Remarks
Responsive web design opens up great opportunities for your business. It will not only engage the users but also, ensures google that the site is created to be accessible on all devices. But, all this requires great planning. Getting help from a renowned web design agency is highly advisable. Awebstar is one of the leading web design and development companies creating mobile-friendly web design as per users' specifications. The designers here are experienced to deliver result-oriented web design solutions. Approach now to get a quote!