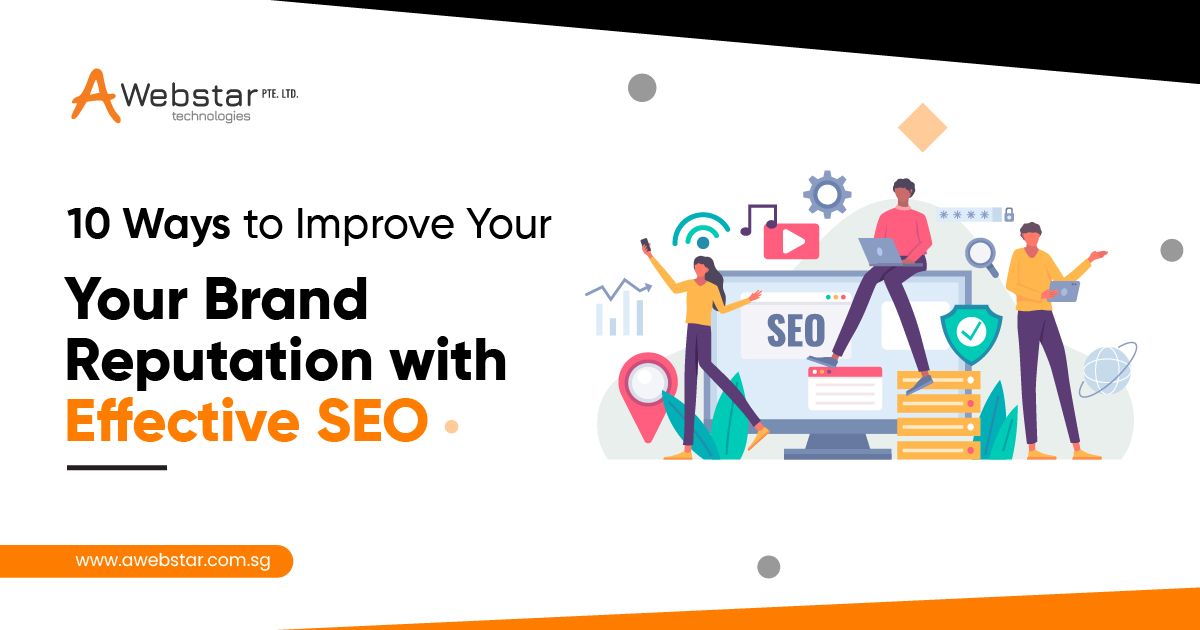 10 Ways to Improve Your Brand Reputation With Effective SEO
In today's digital marketplace, where consumers highly rely on the internet to purchase products & services, online reputation has become critical for business success. A strong brand reputation is essential to expand business reach, building brand trust, attracting customers, and growing business. One of the most effective ways that can improve your brand visibility is search engine optimization (SEO). As millions of brands are competing to get the audience's attention in the digital marketplace, effective SEO strategies have become crucial for businesses. That's why businesses often Hire the Best SEO agency in Singapore and delegate their online brand reputation management to experts.
Having experts by your side helps to target the right audience at the right time and grab the audience's attention. Furthermore, increasing user engagement on websites helps to secure higher website ranks on search results. It improves the quality and quantity of organic traffic from search engines to your websites.
At last, you will have increased brand visibility as well as a strong reputation among internet users all over the world.
SEO Strategies to Improve Your Online Business Reputation:
Let's read about the 10 effective SEO strategies to improve brand visibility and build a reputation.
Detailed Keyword Research:
Keywords are an integral part of an SEO strategy, effective SEO planning starts with detailed and broad match keyword research. That's why you need detailed keyword research. Only relevant and top-trending keywords can improve your website's search engine ranking. Therefore, highlight and identify the relevant & highest-ranking keywords that your brand promotes. To get the most out of your keyword research, you can use some tools, such as Google Trends, Ahrefs, Google Search, etc. Apart from this, you can hire professional SEO services in Singapore to handle the technical stuff on your behalf.
Improve Your Local SEO:
Publish your online business information in local directories, such as Google My Business, Yelp, Moz, HubSpot, Angi, Foursquare, etc. It will help your businesses to reach local audiences in nearby areas. For example, you can enlist your business on Google My Business and other relevant local directories. And then add up-to-date and accurate business information such as your brand name, address, phone number, and operating hours. Ask your customers to leave reviews and share their experiences on such local directories. It will be a great way to target the local audience, increasing brand visibility and getting more organic traffic on your sites.
Focus on High-quality Content:
Today human written, helpful, engaging, and informative content is the most important part of effective SEO planning. This is where a renowned SEO consultant in Singapore comes into the picture. After all, you need skilled, qualified, creative and technical writers to optimise your content based on trending user queries. Plus, make sure to regularly update your website content and blogs with the latest statistics. It will help to build trust and establish your website as an authoritative resource.
Build Authoritative Backlinks:
Backlinking is also an important SEO tactic where one website links to another website through anchor text from guest blogging, business profiles, etc. But, make sure to build backlinks from reputable and relevant websites. Doing so will build the trust and credibility of your business to search engines as well as potential customers. Both will consider your site authoritative when your brand will be recommended by trusted websites. Besides, you can build authoritative high-quality backlinks through influencer collaborations, webinars and content partnerships.
Improve Page Loading Speed:
Users generally skip to another website, if the page loading time takes more than 3 seconds to load a web page. Moreover, audiences get bad experiences with their user journey on your websites. It can damage the reputation of your business. That's why business owners must have websites that load quickly. Simply hire a reputable SEO agency for speed optimization. The experts from such agencies will optimise code, reduce image size, improve server response time, and remove render-blocking resources from your website.
Engage With Audience:
Nowadays, customers are more demanding than ever before and have high expectations from online brands. So, make sure to engage with your audience, understand their needs and try to meet their expectations. Engaging with customers will build a customer relationship for a long time, which is important from a reputation management perspective. You can engage with your audience through email newsletters, social media, website comments or other platforms where both of you can interact.
Optimise Social Media Profiles:
Social media has become an excellent digital marketing platform to promote brands and engage with audiences. Well-optimised social media profiles impact search engine ranking positively, which helps in effective online reputation management for businesses. To optimise your social media profiles, make sure to add a high-quality brand logo as a profile picture. Plus, update a brand name, business description, address, and business hours. Only share valuable posts, interact with followers regularly, and reply to their comments positively.
Analyse Online Reviews:
Client testimonials are also an important part of brand reputation management. Getting online reviews from customers not only increases the credibility of your business but also increases user engagement on your sites. While sharing experiences and writing reviews about your services, users feel more connected to your brand which can result in positive impacts. Indeed, getting customer feedback does not only give you positive reviews but also negative ones. Here, you should know how to respond to such negative reviews and resolve customer queries to improve your user experience. Simply, add a feedback form on your website on a separate web page. Or you can provide users with a feedback form through emails, Google My Business, Yelp, etc.
Avoid Over-Optimization of Keywords:
When optimising the websites for better user experience, there can be chances of over-optimization. However, over-optimization of keywords can lead to a bad user experience. After all, the content with intentionally stuffed keywords does not look informative and engaging while reading. Furthermore, it can lower the quality of your website reputation and lower the ranking of your online store on search results. Here, the solution can be to delegate your write-ups to the best SEO company in Singapore. The expert writers will help you in getting a natural writing style and opt for broad search keywords to reach the widest audience.
Monitor SEO and Website Performance:
SEO is a frequently changing niche. That's why it's better to hire an SEO company and leverage the best SEO practices from experts. The experts will handle all the technical stuff and help you to monitor the website performance using SEO monitoring tools. These tools will give you valuable insights into SEO performance and help you make changes to your strategies-based performance. Regularly updating the content marketing strategy and other aspects of SEO is necessary to improve brand visibility, increase organic traffic, and generate sales.
Conclusion:
Effective SEO strategies are an integral part of your brand's online marketing and improving brand reputation. So, start implementing the given strategies straight away and increase your brand awareness. Doing so will not only increase your brand visibility but also increase conversion rates and help in growing your business.