People generally never mention any of their good experience with the bank or any other office. What they tend to do is quite opposite of that. There's the internet with full of stories about ABC company's customer service is heinous. And all this starts when a person becomes a customer. Talking lightly, customer service is an approach by a company to provide better collaboration to their customer. This is where a queue management system came into existence.
We all have faced such issues numerously and all this happens just because we didn't put customer first policy. And this is the reason in the niches where the customer has to be on the premises of the organization, the demand for queue management system is increasing.
It is considerably hard to manage an offline crowd as they can be very aggressive. However, that is not the case every time. Many time it is the fault of the management of the organization as they failed to handle the people in the queue.
In this article, we're going to discuss the features of an Ideal Queue Management System must have. These features are curated while bearing just one thought in mind, "Customer is First, Always ".
Know how a Queue Management System Work?
An interesting survey states that more than 72% of the customer just expect 'not to waste their time' on an organization's customer service. This was the survey carried out by Forrester in 2k16, which specifically mentioned that 72% customer just want that companies must value their time.
This is where a Queue Management System came into a role. A Queue Management System convince the customer that their time is valuable for the company. When it comes to the complaint, a customer is very quick and they often jump into conclusion on an instant. So, a company always need to be very cautious when it comes to anything but the customer.
Let's check the features of an ideal queue management system,
1. Must Convince The Customer that you Value his Time
When it comes to waiting, a customer becomes ferocious if he/she have to wait for more than 15 mins. In these cases, a queue management system must greet the customer when he/she enters the premises. This creates a positive vibe in the mind of the customer. A queue management must also inform the staff about the entry of the prospective customer.
In this way, one can greet the customer in the appropriate way. If we think from the point of view of a customer, this greeting will show that he is being valued. Everyone is a customer, so I guess you understand that point.
2. Eliminating Long Lines
If the wait time in a queue is longer, trust me it is not good for your company. An ideal queue management system must provide your customer services they are looking for, without wasting their time. An ideal queue management tool also deprives wait times and walkways.
3. Encourage Staff Productivity
An ideal queue management system allows the staff member to concentrate on the most important task, satisfying the customer's need by freeing them from managing such hasty lines. This creates the incredible positive environment for the staff members and hence results in better results.
4. Reduces the Customer Complaints
An ideal queue management system efficiently informs the customer about their status report, which significantly decreases the customer complaints about time. There is a psychometric analysis as well which says that if your brain knows the outcome or even have a hint of the outcome, the reactions are less harsh.
5. Acquiring Valuable Data
This pointer is one of the ace factors for an ideal queue management system. An ideal QMS (Queue Management System) creates a file with all the real time data during the process of the services. This may include waiting time, type of services and customer. This analytics can be very crucial when it comes to identifying KPIs (Key Performance Indicators) in order to improve the quality of the services offered by the company.
Now How Exactly an Ideal Queue Management System can improve the service flow??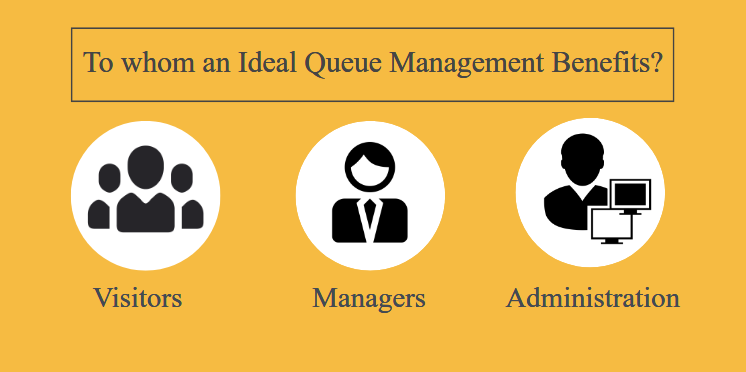 For Visitors
As I told you above, 72% of customers just want to save their time. As a visitor, its expectation is still standing. As an Ideal Queue management system, it takes care of:
Effectively reduces the perceived and actual waiting time.
It also eliminates the possibility of standing in the wrong queue.
Customers are informed via real-time monitoring of status.
This also enables the customers to utilize their precious time in their way.
For Managers
Now, the frontline managers and clerks are mostly about the chaotic lines in front of the counters,
As an Ideal Queue Management System, it takes care of:
Managing crowds in much easier way.
Disallowing customers to register in closing hours.
Providing info to customers.
Improvising work environment.
Consumer behavior evaluation.
For the Administration
The owner and administration take both, customer satisfaction and organization image into consideration. An Ideal queue Management system proves estimable by:
Easily track the performance of its employees.
Giving chance to plan sustainable resource planning.
Making the business more savvy and innovative in terms of technology.
QMS: An Ideal way of Service Intelligence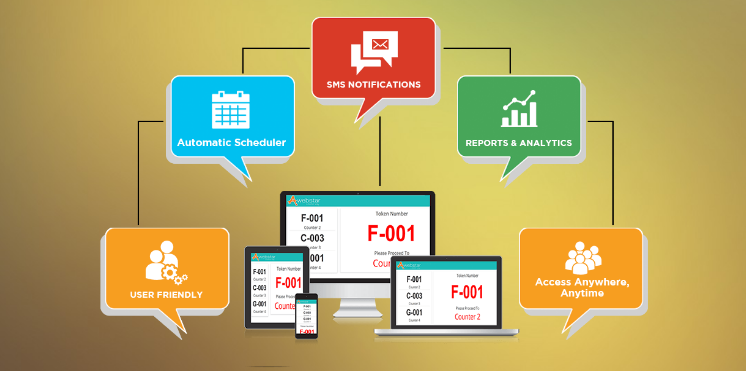 Headbanger right? "What is a Service Intelligence?" Looks like someone is using business intelligence. Actually, both term's core concept is same. Yet there is one difference and it is one heck of a difference.
Service intelligence is used in analyzing the data which will help you to make service decisions that will change the direction of your business.
At last just to conclude, I want to present a simple flowchart of Service Intelligence just to clear things up.
Know about your Visitors.
Managing the queues.
Effectively dividing work into your employees.
Performance tracking (Self-analysis).
Harness your services for your customers.
Great Consumer Service starts even before your customer joins the queue. An Ideal Queue Management system makes sure that you're always ready to equate the equation of Demand and supply.
Book a FREE DEMO for Queue Management Software
So, How you like my views, share your feedback with me. Mention features you want in your ideal queue management system. Mention all of it in the comment section. Make sure to share it.